WhySlacklineGirls?Well, so thatwewouldkeep upthequota and managed to fullfillanotheroneofyetvery sensibleregulationofthebyrocratsfromBrussels? NOPE, thatis so not the case! Themainreasonformakingthis part ofthewebsitewas to show that not only man canbeslackliners. Thegirlscanenjoyslackliningsameamount as man. And not onlythat! Theamazingperformancesofsomeslackgirlscanbe very inspiring, and a bit of a challenge, to thosewhobelong to thegroupof male slackliners. Thisiswhere I thinkofFaithDickey's performance, very european Texas girl, on higline. Not to forget her very stunt, crossing a slacklinerigged in betweentwo SPEEDING trucks.
But to be fair, to find a slackline girl of a worldformat, wedon'treallyneed to go so far. Anna "Anče" Kuchařová, wholives in Prague, isoneofthe topelitegirlswith her performance on higline.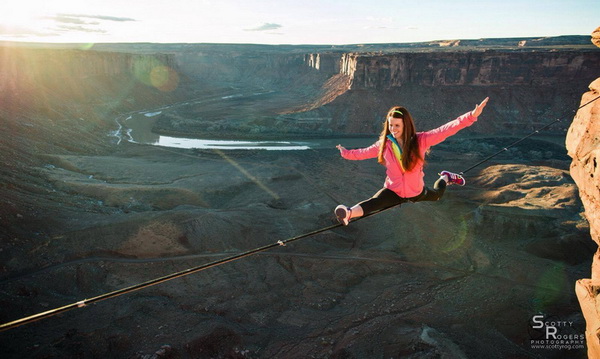 And ifweshouldkeep in mind themid-europeanslacklining, itisforsurethatwehave to mention Justiny Wallis, fromPoland, whosetrickliningskillsmatchthoseof man and evenovercomethem.
However not onlythe pop-sparkle and breathtakingperformancesistheworldofgirlsslacklining. Slacklinegirls, forreasons not very understandable to slackline "boys", organisetheirown GIRLS ONLY SLACKLINE festival, G4G and other "girlish" events.